Barounis' Oil Press started its activity in 1974. In 1986, centrifugal machines were introduced into the oil press.
In 2007 and 2017 the oil press was fully refurbished and equipped with state-of-the-art machinery. It is an eco-friendly, two-phase oil press. Therefore, the Barounis family has gone deep into the world of olive oil, with complete information, know-how and continuous reeducation.
And what's left in the passage of time? But, of course, love, artistry, passion, respect and responsibility for that fruit that has been worshiped, honored and consisted a symbol of our country and culture.
In the beginning there was the earth! Everything starts at the place where the olive trees and the groves of the Messinian land are situated… There, the Barounis family, along with the workers – valuable collaborators – manually collect the fruit, in order to avoid causing any damage to the trees. The fruit is placed in cloth sacks -that are specifically approved for their adequacy- and is transferred to the olive press on the same day, so they can immediately begin the pressing process, in order to avoid any creation of fungi, bacteria etc. in the fruit.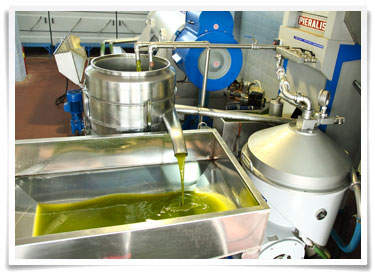 There, the funnel receives the fruit, which gets transferred to the double peeler, where the fruit is separated from the leaves. Then, the fruit is washed twice, weighed and ends up at the crusher, where it is transformed into a paste, the so-called 'hamouri'.
After that, there are 8 different softeners, where this paste, airtight, gets kneaded for about one hour and a half at low temperature (24-25 Celsius degrees), so that all scents and nutrients are released; nothing is lost, unlike the old presses where the paste was exposed.
Then, there is the decanter, that separates the olive oil from the core in an eco-friendly way (2 phases).
At the end of the process there is the separator, which separates the oil from anything unnecessary, with the help of centrifugal force.
The fruit's natural juice, with no chemical or industrial processings, is placed by ourselves, always manually, in our aesthetically pleasing packaging, gets immediately sealed and delivered to you.
Practically, you have the possibility to taste the olive oil just as the Messinian producers do, as it would come to your home if you had your own estate in Messinia.
It should be noted that the machines of the Elladiko olive press are made of certified materials.
Enjoy!